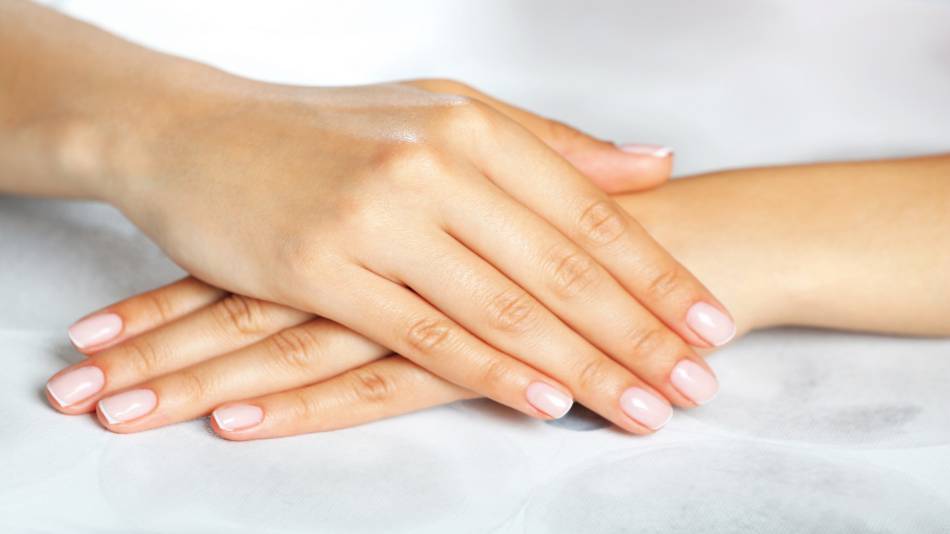 Many factors affect the health and appearance of our nails and cuticles. Cold weather, repeated hand washing, and exposure to detergents and household cleaners can cause drier, more rigid nails that can crack easily, as well as rough ragged cuticles that are visibly starving for moisture. During cold weather especially, nails and cuticles become dehydrated, resulting in peeling and splitting as well as frayed edges. Nails are also more susceptible to fungal and bacterial infections during the winter months.
While battling dry skin, people often turn to lotions and creams that moisturize the surface of the skin, yet fail to properly absorb, thus providing only temporary relief. Creams and lotions typically include alcohol, which is a drying agent, and many synthetic ingredients to enhance color, texture and scent but unfortunately cause more harm than good.
The good news is that there are many natural and essential oils that can be used to moisturize, treat and heal nails and cuticles, without any of the toxins, chemicals or drying agents in most over the shelf products.
How to Soften Cuticles Naturally?
CHOOSE THESE NATURAL AND ESSENTIAL OILS FOR HEALTHY CUTICLES
The easiest way to soften the cuticles is to soak your hands and/or feet in warm lemon water for a few minutes, then apply a healing and moisturizing oil to the cuticles and massage gently. Repeat often to keep your cuticles healthy and hydrated. Our top picks for cuticle oils are Grapeseed and Coconut Ozonated Oils.
Grapeseed ozonated oil is one of the best oils to treat and soften dry cuticles. Grapeseed Oil is highly nourishing and moisturizing. Your skin and your cuticles will love it. This oil is also packed with Vitamin E and Omega-6, which will provide the skin numerous benefits. Vitamin E will fight against external environmental factors. 
Meanwhile, Omega-6 fatty acids will protect the skin barrier to fight against inflammation and protect the outer layers of the skin. Both of these components are great to ensure that your cuticles are moisturized so they can remain healthy. 
Coconut oil moisturizes the skin, making the cuticles soft and smooth. Healthy cuticles also contribute to the healthy growth of nails. Coconut oil is also packed with beneficial fatty acids that act as transepidermal water-loss barriers that keep the nails and cuticles hydrated.It is also naturally anti-microbial, anti-bacterial and anti-fungal, making it a great nail treatment during the winter months when nails are more susceptible to infections.   
How to Encourage Nail Growth?
CHOOSE THESE NATURAL AND ESSENTIAL OILS FOR HEALTHY NAILS
After taking care of the cuticles, it's important to treat the nails in order to keep them healthy, strong and encourage growth. Our top picks for strengthening nail treatments are Olive and Sweet Almond oils. A few drops of Myrrh essential oil will also do wonders for the health and appearance of your nails.
Olive oil is an extremely moisturizing and healing oil and is easily absorbed into the skin making it an excellent choice for nail and cuticle care. Rich in vitamin E, olive oil helps in the absorption of calcium, improves bone mineralization and the process of calcification, to help nails grow faster. It also strengthens brittle nails, softens cuticles, helps prevent hangnails, and increases nail flexibility to avoid breakage.
SWEET ALMOND OZONATED OIL
Almond oil helps to naturally restore nail health. Rich in essential antioxidants, Omega 6 and 9 fatty acids and vitamins E, A, B1, B2, and B6, Almond oil coats the nails with rich nutrients that protect them from peeling, cracking, dryness and breakage. In addition to providing protection, a few drops of Sweet Almond Oil will smooth out your cuticles and lend your nails a glossy shine.
Hemp seed oil is full of nutrients that contribute towards repairing and strengthening your nails. Perfect for those who like to grow their nails long!
How to Protect Nails and Cuticles from Fungal Infections?
CHOOSE THESE ANTI-FUNGAL ESSENTIAL OILS
With your risk of fungal infections (especially toenail fungus) increasing during the winter months, consider adding a few drops of these anti-fungal essential oils to your nail and cuticle oil. The essential oils will protect your nails from infection and will also help treat existing infections and their symptoms.
Castor oil has anti-fungal, anti-inflammatory and anti-bacterial properties that are ideal for keeping nails and cuticles healthy.
Coconut is also an anti-fungal oil that helps to heal fungal infections and protects nails and cuticles from infection.
Conclusion
Keeping nails and cuticles healthy can be easy when using the right ingredients. When making your own blend of oils, be sure to use therapeutic grade organic oils in order to avoid toxins and additives that can be harmful to your health. In addition to topically treating nails, a diet rich in healthy fats, such as avocados, nuts and seeds, and antioxidants can also help in keeping your nails and cuticles healthy.