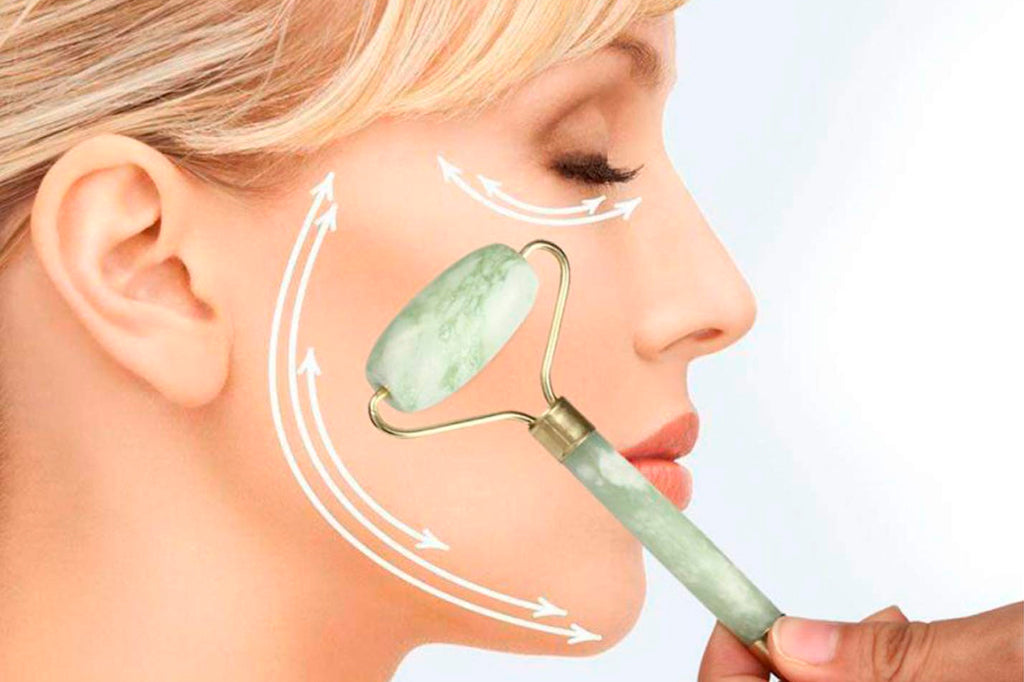 If you follow natural beauty enthusiasts on Instagram, it's highly likely you've noticed a rather beautiful new tool popping up in flat lay after flat lay.
In fact, jade rollers aren't a new tool at all. They've been used in Chinese skincare since the 7th century, and are back in a big way since skincare experts realised that they make the perfect partner to facial oils. 
The cooling stone will help reduce any puffiness, whilst the gentle rolling movement distributes the oil evenly across the complexion, whilst helping the oil to penetrate deeper into the skin. Plus, it's a super relaxing ritual!
Now, choosing the right oil to match your skin concerns can be tricky. So we're going to try and make things simple for you...
For dry skin

Lacking in moisture?
Renowned for its skin rejuvenating properties, sweet almond ozonated oil can help to fade the appearance of scars, stretch marks and wrinkles, as well as nourish dry skin. The oil is naturally rich in vitamins A,C and E, and contains high levels of Essential Fatty Acids (EFAs). These EFAs promote healthy cell regeneration, helping to fade blemishes.  
Ozonated Sweet Almond Oil is perfect therapy for skin wrinkles. Ozone activates metabolic processes in macroergic cells, normalizes membrane activeness (K-Na pump), penetrance, deformability, viscosity and electric features. Ozone is an unique, preserving and restoring the natural beauty and health of skin element. Ozonated oil therapy does not only cover defects of skin, but normalizes and stimulates its natural functions. 

If you suffer from dry patches and flaky skin, mixing sweet almond ozonated oil with a little avocado oil is a match made in heaven. Alongside consistent use of your jade roller, your skin will begin to become nourished and luminous.   
For oily skin
This may come as a surprise, but using facial oils is great for oily skin! That is - as long as you're using the right type. 
Oily skin occurs when your skin over-produces sebum - the oil it naturally creates. Jojoba ozonated oil closely mimics sebum, so when you apply it to your face, your skin will produce less sebum. This makes jojoba ozonated oil compatible with all skin types, even oily and acne prone ones. 
For acne-prone skin
There are several possible causes of spots and acne, one being when excessive sebum blocks pores and hair follicles (see jojoba ozonated oil above).
Pollutants are another possible cause. Unwanted toxins from air pollution or chemicals in our skincare, cosmetics and cleaning products can imbalance the skin's natural PH levels, resulting in breakouts or dry, flaky skin. 
To combat this, choose a Hemp seed ozonated Oil to protect against oxidative damage, and  to protect the skin from environmental stressors.
The effect is perceptible after one-two procedures: decrease of edema, tissue thickening and pain relief. After 4-5 procedures skin restores sensitivity, hyperemia decreases and sensation of postoperative areas disappears
   The most important fact is that the effect of similar treatments does not resolve only esthetic problems, but also enhance of general feeling of patients by numeral effect of ozone characteristics in general.
Anti-acne relief oil for face skin is an effective treatment for healing the skin scars after acne and discontinuation of inflammatory reactions. It helps improving skin blood circulation and detoxifying the skin as well as prevent blemishes. 
Apply 2-3 drops onto cleansed skin, and massage into your complexion with a jade roller. Finish off with a hydrating cream and repeat 3-4 times a week. 
For ageing skin

While the extra hydration hit from any ozonated oil will help tackle the signs of ageing, it doesn't hurt to have a little extra boost! Choose a ozonated oil with moisturising and regenerative properties such as sweet almond ozonated oil and grapeseed ozonated oil, and work into your skin with a jade roller to boost your circulation. 
This will increase blood flow to the face, helping to regenerate skin cells and softening fine lines and wrinkles.